Representatives Committee
The responsibility of the
Representatives Committee
is to:
Increase awareness among Jack Russell Terrier owners of the existence of the Jack Russell Club of America.
Help and advise Club members and other interested Jack Russell Terrier owners with any and all matters pertaining to the Club and to the breeding, raising, owning, selling or showing of same.
Assist, when requested, the Complaint Panel and Disciplinary Committee with disciplinary problems among the Representatives by making recommendations to the Board of Directors for appropriate action.
Handle all day-to-day Club business pertaining to the Representatives.
Representatives Committee Members
Jenn Carr (Reps Committee Chairperson)
Lisa Dernick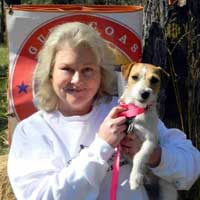 My name is Lisa Dernick and I've been a State Rep for Texas since May of 2012. I live in Houston, Texas, with my husband, David, and our two Jack Russell Terriers. We had three, but lost our male unexpectedly in January of 2013. We have three grown "kids" who are out on their own, and we're thoroughly enjoying empty nest syndrome. I was born and raised in New York City but have called Texas home for about 25 years.
I've owned Jack Russells for 13 years and have been a member of the JRTCA since 2005. I have been very active in our local affiliate club, the Gulf Coast Jack Russell Terrier Network, since 2005, and am currently serving my third term as Club Secretary as well as Hospitality & Special Events Chair. I'm also active in helping our club host its annual Texas Two Step trials the first full weekend of every March in Navasota, Texas. I enjoy interacting with new people and helping them maneuver their way around the wonderful world of JRT's, affiliate clubs and the JRTCA. If you have a question, ask me. If I don't know the answer, I will find out.
We enjoy traveling to various trials around the country and do our best to help support other clubs' efforts as much as we can. I find that I learn something new about these dogs and their natural abilities every day - and that's what keeps me interested and focused.
We own land in the small town of Chappell Hill, Texas, and hope to resume renovations to the existing house, barn and land during 2013. At that time, we hope to open our home to a few more terriers and kick things up a notch!
Patti Podliska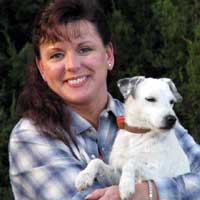 My name is Patti Podliska, I am the Nebraska State Representative.
I became a member of the JRTCA in 1998. I was born in Norfolk, Nebraska. I have lived in this area all of my life. I married my husband Dana in 1988; we have 3 active children ages two boys and one girl ages Ross 16, Zachary 12 and Sara Sue 10. We live on 12 acres of pasture and trees.
Our children have grown up with the Jack Russell's. Hunting Jacks, upland game birds and fishing. It is our way of life too. We have 7 Jack Russell's right now, we also have a Brittany for the bird hunting, a German Sheppard that is suppose to guard the place, and a Jag terrier rescue that helps the Jacks when needed.
The last week of June we help put on the Mid-America Working Terrier trial. The whole family helps. I couldn't do it with out them nor would I want too.
My family and I are proud to be a member of the JRTCA and we all will work to protect, preserve and work the Jack Russell to keep it true to its breed and the club.
Olivia Bravo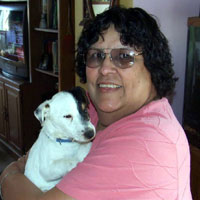 My name is Olivia Bravo. I reside in Cross Lanes WV with my mate, Richard Carte, and 7 rescue dogs. We have 4 special needs Jack Russell Terriers, deaf and blind Border Collies, and an abused Rottweiler mix among the gang. I have been involved with Jacks for just under 20 years when a little football of a fellow we named Pete was dropped in our backyard with a note attached to his collar to take care of him. (Up to then I swore I would never have another terrier after my experience with an Airedale.) But now we are on our fifth one and cannot imagine life without one. We are not breeders but just a home for dogs. Both of us have fulltime jobs (me as a librarian and Richard, as a flood control management mitigation specialist for the State of WV).
I have also been active in getting a homeless shelter for women built in Charleston as well as in Literacy and Special Olympics. Over the years I have tried to promote the breed and association. My belief in this association that welcomed me nearly 15 years ago with my deaf girl, Annie, is the main reason I want to give back to the organization in any way. Working on this committee will give me the opportunity to do so.
Sandie La Vake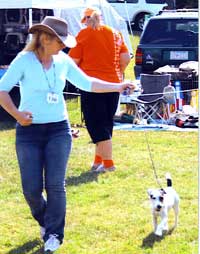 My name is Sandie La Vake. Jack Russells and the JRTCA have been a big part of my life for about 18 years. I have been a State Rep in Wisconsin for about 8 of those years. I am a bit shy and don't often start a conversation but when asked about Jack Russells it is hard to get me to shut up. I think educating others about my chosen breed is my favorite thing to do. I often am the go to person when a person has a behavioral issue with their dog and love to hear their success stories after they have implemented some of my advice. I enjoy the art and science of breeding, which I take very seriously. Because I breed I only feel it is right to involve myself in "Rescue", which I have done since the beginning of my involvement. I work with some local egg ranchers to help rid their outbuildings of opossum and raccoon which is fun for the dogs and often is a lot of work for me. I do enjoy the pride and joy that my dogs exhibit as they work.
Other than dogs, I am married to "the music man" who has been known to bring his guitar to shows and fun-days just because. We have four grown daughters and I work as a Research technician for New Page; a specialty paper company.
Marina Sauer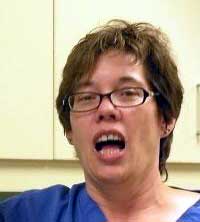 My name is Marina Sauer and I have been involved with Jack Russell Terriers for about 21 years. I joined the JRTCA in 1992 and became a state representative for North Carolina shortly thereafter. I currently live outside the town of Micro, North Carolina(southeast of Raleigh)and enjoy the quiet country life. I am a veterinary technican by trade since 1986 and currently working in the small animal vector and in emergency medicine.
My passions are my my dogs, 6 Jack Russells, 4 Lakeland Terriers, 1 Chow/Lab and a Black/Tan Coonhound. I am also owned by 4 cats. I loved to watch my dogs do their natural thing, hunting, but also enjoyed the fun of going to trials. My goal is always to continue the natural ability of these terriers. I was actively involved in Jack Russell rescue for 13 years and understand that this in not the dog for everyone. I was and sometimes still involved in the behavior issues that revolve around these terriers.