"Most Valuable Puppy!" - Barky Buddy
Toy Dogs to Help Real Dogs!
East Aurora, New York… The Toy Town Museum and the Jack Russell Club of America have teamed up to celebrate toys and dogs this holiday season with a special edition of this year's Toy Town Commemorative toy to help support both their organizations.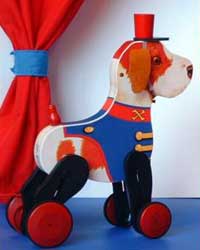 Barky Buddy
This year's commemorative toy is Fisher-Price's #150 "Barky Buddy." This adorable little dog was originally made by Fisher-Price in 1934. The artwork for "Barky Buddy" was styled by Margaret Evans Price, a well known local artist and illustrator of children's books. As wife of Irving Price, one of the founders of Fisher-Price, Mrs. Price lent her talents to many of the early toys including the "16 Hopefuls"-the first 16 toys made by Fisher-Price. In order to replicate the beauty of these pieces, the Toy Town Museum has produced labels for this year's toy directly from the original archive piece.
In keeping with the original toy, this proud terrier wears a military hat and the oilcloth ears will now be made of suede. The special edition is adorned with two military style dog tags on the pull string. Overall production of the "Barky Buddy" was limited to a total of 2500 toys.
Holgate Toy located in Kane, PA. is producing the toy. Holgate Toys is a well-known toy company that has specialized in the making of wooden toys. Holgate was one of the first toy companies in the US to research and develop the educational, preschool toy market for children. Holgate is well known for the toys they have produced for the popular children series Mister Roger's Neighborhood.
The Toy Town Museum in conjunction with Buffalo Games also produced a puzzle-"Toy Dogs." The puzzle is a 500 piece puzzle and produced right here in Western New York. The Jack Russell Club of America will receive a donation from the Toy Town Museum from each toy and puzzle sold to help support their on-going programs.
"Barky Buddy" is priced at $58.00 and the "Toy Dogs" puzzle is priced at $12.00. Orders for the special edition can be placed through this web site (see order form link below).
The Toy Town Museum is an independent, not for profit museum located on the Fisher-Price campus at 636 Girard Ave., East Aurora and is open Monday through Saturday from 10:00am-5:00pm and Sundays 12-4 pm. For more information about the Toy Town Museum, call (716) 687-5151 or check out our their website at www.toytownusa.com.
Download Order Form (PDF, 683 KB)