JRTCA Webmaster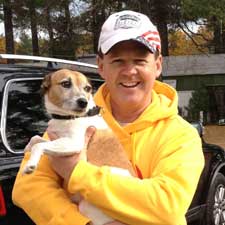 My name is Rick Hemsing and I am the webmaster of the JRTCA web site. I created this site in November 1995 as the Unofficial Jack Russell Terrier site. It was officially sanctioned by the Jack Russell Terrier Club of America on June 1, 1996. The site has grown over the years and we now receive about 215,000 visitors per month. The site consumes over 450 Megabytes of disk space and we average 40 to 50 gigabytes of traffic per month. We have over 12,000 photos of Jack Russell Terriers in our picture galleries.
Please visit the JRTCA Breeders Directory web site and the JRTCA Members Only web site. Both of these sites are maintained by the JRTCA Club Office.
We are very interested in your opinion of our web site. If you get a chance, please fill out our Web Survey.
You can contact me at

.
My wife Leslie and I have been members of the JRTCA since April of 1993. We attended our first terrier trial in the summer of 1993 and were hooked. Our favorite trial event is racing. Jade was the under Veteran Racing Champion at the 1999 JRTCA National Trial. In 2009 we adopted Willow from the Russell Refuge. My company, Hemsing Designs, provides hosting for the JRTCA web site. Please let me know if we can build a web site for you or your business.
Our First Jack Russell Terrier - Site Dedication

Katie was our first Jack Russell Terrier. She was born with a defect that caused her kidneys to fail; she was only 13 months old when we had her put to sleep. During her short time with us, Katie taught us all about Jack Russell Terriers and because of her you have this web site.
This site is dedicated to Katie with love and gratitude. She lives still - in our hearts and in our love for this breed.
The JRTCA web site is dedicated to Katie, Jasmine and Jade, three wonderful Jack Russell Terriers who live now only in our hearts.

Hosting by Hemsing Designs, Inc.