Toy Suggestions

Q: What toys should I buy for my JRT?

A: The type of toys you purchase for your JRT really depends on the individual dog. Some dogs love squeaky toys, some destroy them. The same can be said of any other toy. We recommend that you never leave your dog unattended with any toy due to the risks. Many JRTs are very rough on toys and destroy them. Small pieces can become lodged in their throat or digestive tract and cause problems.



Several people give pig's ears and hooves. Others don't feel comfortable feeding them due to the risk of choking, and the possibility of chemicals used in the process of making them.

Raw marrow bones are great for chewing, but and we suggest supervision for these as well. Some dogs will get an upset stomach from the marrow in the middle. You can scoop it out before giving them to the dogs. Also, be sure the hollow middle part of the bone is small enough or large enough that the dogs jaw cannot get stuck in between. The bone should also be large enough that it cannot be swallowed.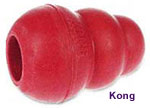 Kong toys are quite popular. You can fill them with treats, peanut butter, yogurt, jello, or just about anything else you can think of. Most dogs enjoy the challenge of getting what's in the middle.

Some dogs enjoy the plush toys and rope toys. There are also the "treat dispenser" type toys where the dog has to work to get the treats out. It all depends on what your dog will play with.



The edible nylabone type bones are also popular. We only suggest the bones that contain no plastic and chemical preservatives.

Just remember that a dog should always be supervised because there is a risk with all toys.

Return to the Forum.