Grumpy Old Jack Russell Terriers
Dogs have a tendency to become less tolerant of children and other dogs in their pack as the years add on.


Catherine Brown - Terrier Troubles - True Grit
It was suggested I write about older dogs, more specifically grumpy old dogs. For a brief time in my life I set up art programs in nursing homes while working for the University of Rochester's Creative Workshop. It involved setting up art projects seniors could do. One time I went in to the room and sat in a chair. Everyone in the room addressed me excitedly, "Don't sit in Edna's chair." They warned me Edna gets very agitated if anyone sat in "her" chair. It is true the elderly get set in their ways and places.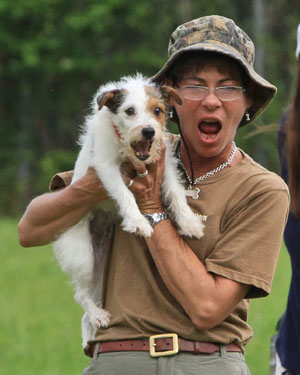 Dogs have a tendency to become less tolerant of children and other dogs in their pack as the years add on. Sometimes they even get to the point of being grumpy towards their people. Many will show a foul side when being bothered when sleeping. It is suggested to make noise in the room and not be rude to them. If they are grumpy in bed, it is time they have their own place to sleep where they won't be bumped.
Some old dogs have faded hearing and their sight has dimmed a bit. Make sure their mouths are healthy and be sure they do not have gingivitis spilling bacteria in their system. You might want to adjust their kibble to a lower protein that is easily digestible. Moisten their dry food. Have your veterinarian give the dog a good check up and follow his or her suggestions.
Protect the older dog from the youthful excitement of visiting children who may not understand the old dog is not in the mood to be bothered. It is important to keep an old dog happy and keep life interesting. You can adjust the senior dog's exercise to be age appropriate.
Keep in mind young dogs learn from older dogs. The old dog may help you teach the young dog to enter. Pick a safe place and make sure the young dog respects the presence and work of the senior dog. A little hunting will make an old dog feel useful and happy. I for one, want my senior dogs to spend their later lives near to warmth and comfort. We keep our oldest dogs in the house. They are our honored hunters and have earned comfort and praise at the hearth and in our hearts.
Article from True Grit
Interesting in reading other Jack Russell Terrier articles? If so, please consider joining the JRTCA. As part of your membership you will receive the club magazine, True Grit.