Jack Russell Terrier Obedience
Sit. Stay. Down.
Obedience tests the training of terriers as they perform a series of exercises at the command of their handler.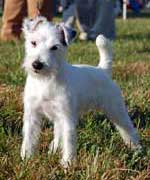 JRTCA Obedience may consist of the following classes: Sub-Novice, Novice, Open, Utility, Brace, and Junior Handler. Handler and terrier are required to perform a series of exercises that test the obedience of the terrier. Each exercise is graded by the obedience judge. Points may be subtracted for minor and substantial faults. The maximum points for all exercises totals 200 points (170 is a qualifying score assuming that you receive no less than 50% of the points for each exercise).
Penalty points may be deducted for disciplining, fouling ring, barking, leaving ring, rules violation, or showing fear.
Obedience Equipment
For Open and Utility Classes:
1 Bar Jump
1 High Jump
1 Broad Jump
Obedience Officials
Obedience Judge
Ring Stewards (two) - should have basic understanding of obedience competition
General Rules
Judging order shall be assigned and handlers need to be at ringside. Upon advance request, judging assignment may be changed where a conflict arises. If such a conflict cannot be resolved or if the exhibitor fails to appear at ringside at the appropriate time, the exhibitor shall not be entitled to a refund of entry fees.
Each class shall be limited to 10 dogs. If entries for any one class exceeds 10, the class may be split evenly.
To earn a qualifying score, the terrier needs to earn 170 out of 200 points and receive no less than 50% of the given points for each exercise.
Any terrier receiving three qualifying scores in the same class, under two different Judges, is eligible for a JRTCA Obedience Certificate; the terrier must be JRTCA registered or recorded, and the owner must be a current member of the JRTCA. The Certificate may be obtained by submitting signed score sheets along with a $20.00 check, payable to JRTCA, P.O. Box 4527, Lutherville, MD 21094.
Leashes for Sub-Novice need to be a minimum of 6 feet in length. Collars should be well-fitting buckle or slip collars, no pinch collars.
All terriers must be at least one year of age to compete in obedience.
Obedience Classes
Sub-Novice - Ten maximum in each group, all commands on leash. To be judged individually: heel, heel figure 8, stand for exam, recall. To be judged as a group: 1-minute sit stay, 3 minute down stay.

Novice - To be judged individually: heel on leash, figure 8, stand for exam, heel off leash, recall off leash. To be judged as a group: 1-minute long sit off leash, 3 minute long down off leash.

Open - To be judged individually: heel free, figure 8, drop on recall, retrieve on flat, retrieve over high jump and broad jump. To be judged as a group: 3-minute long sit, 5 minute long down.

Utility - Signal exercise, scent discrimination, directed retrieve, moving stand for examination and directed jumping.

Brace - Two dogs performing Sub-Novice exercises together judged on Sub-Novice criteria. Dogs may be on two leads or coupled. Braces to be judged on precision.

Junior Handler - Judged as Sub-Novice.