Jack Russell Terrier Club of America (JRTCA)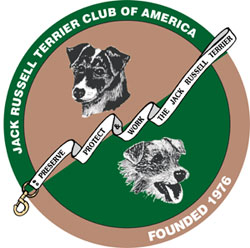 The Jack Russell Terrier Club of America (JRTCA) is the National Breed Club and Registry for the Jack Russell Terrier in the United States and is the largest Jack Russell Terrier club and registry in the world.
The JRTCA and its registry were founded in 1976 for the purpose of protecting and preserving the unique characteristics and working heritage of this great little terrier, and remains dedicated to that purpose today. The Club is, and always have been, emphatically opposed to recognition of the Jack Russell Terrier by any kennel club or all-breed registry. Recognition, it is believed, will be detrimental to the preservation of the Jack Russell as the sound, intelligent strain of working terrier it has been for more than 100 years.
The JRTCA breed registry is one of the most unique registries in the world. It has been designed specifically to maintain the Jack Russell Terrier as a healthy working breed, free from genetic faults and characteristics that would be detrimental to the breed. Unlike other registries which register entire litters at birth, each application for registration in the JRTCA is judged on the individual terrier's own merits.
The REAL Jack Russell Terrier
The Real Jack Russell Terrier may be any height between 10" and 15" (at the shoulder), it may vary in coats, markings, type, and for sure personality... they are ALL real Jack Russell Terriers. There is no "ideal"... the "ideal" is what suits their owner for what they want/need to do with their terrier. That is the uniqueness of this diverse terrier.
Benefits of JRTCA Membership
The most important reason to join the JRTCA is to support the preservation and protection of the Jack Russell Terrier. However, as a member there are many benefits!

Helpful JRTCA Links