Will the Real Jack Russell Please Stand Up?
A variety of Jack Russell Terriers can stand up, representing the different sizes, coats, markings and types of the Jack Russell Terrier - yet all who well meet the broad breed standard of the JRTCA.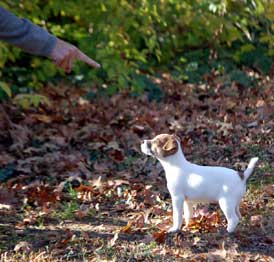 The Real Jack Russell (breed standard) includes and needs this diversity in type to provide the diverse working and performance capability of the Jack Russell Terrier. (In contrast with the narrow, cosmetic breed standards of the AKC Parson Russell and other show breeds.)
The Real Jack Russell has the structure, brain and heart to work underground to a variety of quarry. This functionally-ready structure and working brain and heart are what the JRTCA breed standard and breed registry preserves.
The working structure, brain and heart of the JRTCA terrier is also what will preserve the astounding working prowess, athleticism and versatility of the Jack Russell Terrier... "the dog that does"... From agility, racing, surving, flyball, bird retrieval, skate boarding, search & rescue, therapy dog…
The working brain and heart is what can make the JRTCA terrier such an intensely loyal, alert, affectionate... a profound companion like no other. The working JRTCA terrier wants to keenly interact with people… to be with you every moment of life… sharing and helping at every step. The JRTCA terrier does not sit on the sidelines of life.
JRTCA's essential mission to "Preserve, Protect and Work" the JRT equally preserves the breed integrity for the most versatile, healthy, highly intelligent, loyal and affectionate companion Jack Russell.
The breed standard (functional & broad) and breed registry not only preserves a terrier capable of working fox underground, but also preserves a healthy, sound athlete and intelligent companion.
Of course, the Real Jack Russell is the JRTCA breed standard Jack Russell Terrier. Historically, genetically and structurally related to the type of terrier associated with Reverend John Russell of Swimbridge, England... Still being preserved by the JRTCA.
Written by Kathleen White, Texas