Breeding Jack Russell Terriers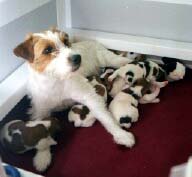 Breeding is risky business, whether you do it for love or money.
If you're doing it for love, you risk losing your bitch and her puppies.
If you're doing it for money, you stand to lose a bundle.
Talk to a few breeders with experience. They'll be able to tell you their personal stories of disasters. If you've ever read a book on Canine Reproduction you'll notice that there's 54 pages on what can go wrong, and only one page on what it's like if everything goes well.
The risks are very real, and even if everything goes well initially, there are defects that can show up later, causing the eventual death of the puppies. And then there's the minor defects that won't affect the puppy's chance for a happy life, but will cause a financial loss to the breeder, as a refund or replacement will need to be given to the buyer.
Breeding is Risky Business - an excellent article about the seriousness of breeding your terrier. A must read for anyone contemplating breeding their Jack Russell.
The Novice Breeder - thoughts and insights from a first time breeder of Jack Russell Terriers.
The Case for Spay/Neuter - think before you breed. This article discusses the issues related to spay/neuter versus breeding.