Record your Terrier with the JRTCA
Terriers who do not meet the full breed registry requirements, but do meet the general criteria for a Jack Russell, may be recorded with the JRTCA.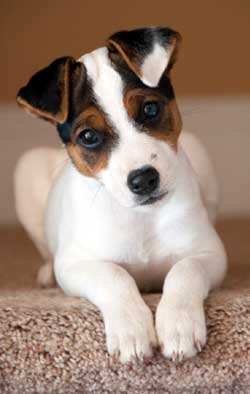 Terriers who do not meet the full breed registry requirements, but do meet the general criteria for a Jack Russell, may be recorded. Terriers that possess a genetic defect, possess disqualifying conformational faults, or do not have at least a three-generation pedigree are not eligible for recording unless spayed or neutered. Terriers over or under the height standard (10" to 15") are not eligible for recording.
Recording your spayed/neutered terrier is a very simple process, and offers you and your terrier several benefits at a very minimal cost.
Recording Requirements
Application. The application simply requires the name of the owner, the name of the dog, the dog's measurements, and parents if known. Rescue dogs are very welcome... if the parents and/or birth date are unknown, your terrier is still eligible for recording. Download the JRTCA Recording Application (note: it is a different application than used for registration).
Photo. One photo is required, which is simply for your dog's identification in their permanent record.

Proof of spay/neuter. This can be in the form of a note from your vet, your Russell Rescue contract, or any other official paperwork that proves your terrier is spayed/neutered. There are no pedigree or other paperwork requirements, no complete vet certification requirement.

Fee. The fee to record a spayed/neutered terrier is only $15, which is the club's minimum cost for the administration of the recording.
Benefits of Recording your Terrier
Recording your terrier offers you and your terrier several benefits. When the JRTCA implements the registration/recording requirement for sanctioned trials, obviously it will give you the continued opportunity to participate in sanctioned trials. However, recording your terrier also offers the following benefits.
Permanent Record. Recording your terrier places a permanent record of your terrier, with photo, in the club's records.

Certificate of Recording. Once recorded, your terrier is issued a very attractive Certificate of Recording.

Certificate Programs. When recorded, your terrier is eligible to participate in the JRTCA's Certificate Programs and to earn certificates in Obedience, Agility, Go-to-Ground, and Natural Hunting. There are several levels of obedience and agility. Earning JRTCA certificates allows your terrier to be eligible for certificate classes at sanctioned trials.

Height Cards. If your terrier enjoys racing or GTG, and may be "borderline," you may acquire an official measurement and height card once recorded.
Sanctioned Trials Administrative Fees
Adult terriers who are registered or recorded pay a lower per dog administration fee at sanctioned trials. The per dog administration fee for terriers who are NOT registered or recorded is $7. The administration fee for terriers that ARE registered or recorded remains at $2 per dog. This does not apply to new members who join the JRTCA the day of the trial (for that trial only). Puppies may apply for registration early, providing the Vet Certificate is completed no more than 30 days prior to application (i.e., at 11 months of age). Your terriers do not have to be registered/recorded in order to attend a JRTCA sanctioned trial. If you need any help or have any questions about the registration or recording process, please call the Club Office any time and they will be glad to assist you.