True Grit is the national magazine of the JRTCA. We publish quarterly to keep JRTCA members in touch with each other and abreast of what is going on throughout the country and within the JRTCA.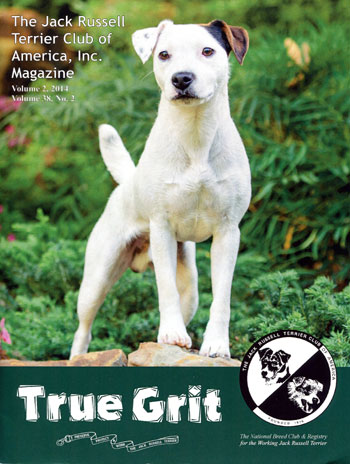 Included in your JRTCA Membership
Message from the Chairman
Trial Schedules
Stories
Club Notes
Bronze Medallion Winners
Pictures
Book/Gift List
Board of Director Minutes
Committee News
New Member List
JRTCA Breeders
JRTCA Judges
New Terrier Registrations
Letters to the Editor
Profiles
Published quarterly
Approximately 50-60 pages
The Best of True Grit is an index of articles published in past issues of True Grit from 1979. Topics include agility, behavior, breeding, conformation, grooming, go-to-ground, hunting and hunting stories, JRTCA history, Kennel Club recognition, obedience, racing, Rescue, trailing, and various veterinary and medical articles.
This index will be updated annually. Reprints of these articles are available to members at a nominal charge. Please contact the JRTCA Office, at 410-561-3655, or JRTCA@theRealJackRussell.com to receive your copy of the complete Best of True Grit index.